Investments
---
The Company's historical investments have facilitated the development or improvement of a myriad of real estate assets, including office buildings, master planned communities, golf courses, hotels, and multifamily developments. As we have disposed of or exited many of these investment types, we are poised to expand our investment footprint into resource and alternative energy investments.
New Mexico
Lat33 Capital is one of the largest landowners in New Mexico (13,000 acres) seeking to unlock value through solar, water, hydrogen, lithium, and other mineral developments.
Inspiration at Rio West is 9,600 acres of land located approximately six miles northwest of Rio Rancho city limits, in unincorporated Sandoval County, NM. This property has abundant water resources from one of the largest US aquifers, Rio Grande Aquifer, which produces 240 million gallons of water per day. Lat33 has water rights for 56,000 acre-feet per year, equivalent to 50 million gallons of water per day. Intel Corporation, who is expanding their nearby $20B semiconductor campus, funded two deep groundwater wells up to 5,000 feet on Lat33's land. Interested parties have evaluated constructing a sizeable water desalination plant and mineral recovery plant with three marketable residual minerals: lithium chloride, calcium chloride and sodium chloride. Lat33 also believes there is an opportunity to develop 3,000-5,000 acres of solar power and storage on this acreage.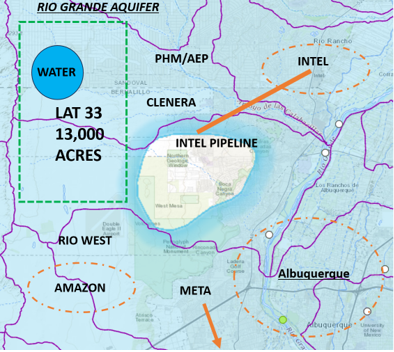 Inspiration at Rancho Grande is Lat33's southern 3,450 acres of land located west of Albuquerque, in Bernalillo County, NM. In May 2023, Lat33 signed a lease for all 3,450 acres with NextEra Energy to develop 300-400MW of solar generation and storage over three phases. NextEra is regularly on the property and advancing permits to begin construction in 2024.
Golden Valley 913
This asset consists of ±913 acres of undeveloped land located at 6527 S. Sacramento Road in Golden Valley, Mohave County, AZ, and is under a lease option with reNRG Partners. The developer plans to build 50-80MW of solar energy on 500 acres.
Lakeside, UT
Lakeside, located along Jordanelle Parkway Boulevard, North of Fox Bay Drive outside of Park City, UT is an approximate 127-acre tract of vacant land zoned for mixed use. The location of this site is at the base of the future Deer Valley Ski Resort expansion area. Lat33 owns a 50% interest in future tax increment financing (TIF) proceeds derived from the development of land to residential units.Land Sold in September of 2018, 50% TIF interest retained
A farmhouse hotel dating back to the 19th century, MacArthur Place has long been a historic centerpiece of this California Wine Country community, located in strolling distance to the vibrant Sonoma Plaza. Lat33 Capital brings its modern vision and star-worthy service to the Victorian hotel and its verdant gardens with a reimagined experience that debuted in summer 2018. On par with the elevated bounty of Sonoma County, one of the world's largest wine regions, plans included careful renovation of the arrival, reception, guest rooms and suites, culinary venues, spa and pool. A 45-minute drive from San Francisco, the region will achieve elite hospitality status for a top coterie of travelers.
Currently Owned